The Beginning…
It was clear from the moment I was born that music was to be my destiny. I can say humbly and without ego that I'm not your average little girl playing the piano. My parents discovered my musical talents at the age of 3.5, and under the stern tutelage of my music teachers, I am working hard to fulfill my calling in music.
It's my life's work to express those emotions and feelings that can only be conveyed through music. It's how my spirit takes wing and soars to unfathomable, seemingly unreachable heights. I hope that my music does the same for your spirit, too!
My Passions…
I LOVE to perform at school, Churches, special functions, cultural events, and recitals! I found being on the stage and performing in front of the audience is something I love doing, and those are the best moments in life! I'm passionate about growing up to be a professional musician – a concert pianist and play music worldwide!
Mine are the eyes of a composer, too.
Don't think that I'm confined to just performing. Oh, no. I love studying composition, and I am learning notes daily. I know where my talents can take me. I hope to create songs and pieces that can be passed on for generations!
Meet My Mentors
​​I am so fortunate to have not just one music teacher, but FOUR of them! These wonderful, talented, and amazing ladies are the lights of my musical journey. Come and join me to get to know them and see how they help shape me into a professional pianist!
Piano Teachers
Ann Thorsen-Moran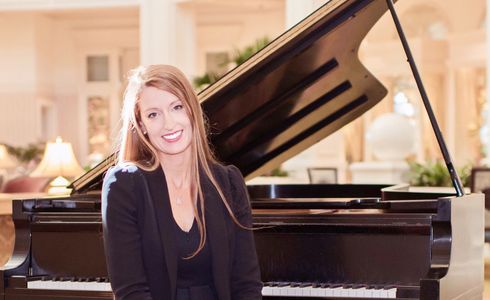 Heidi R. Larson
Music Mentors
Olesya Pankiv (Left) 
Olga Kolpakova (Right)